OVERGATE HOSPICE
At The Yorkshire Soap Company we recognise the importance of giving back to our communities and choose to do so through charities working towards good causes.
We would like to take some time and share a little bit of information about the charity we are supporting and helping with fundraising, Overgate Hospice.
As a business, we receive numerous requests each week, asking if The Yorkshire Soap Company would like to support and donate to various charities and fundraising programs around Yorkshire and the UK. We were continually offering small raffle prizes and donations to lots of different charities, however, we felt that we would make a greater and more positive impact donating to one chosen charity throughout the year, supporting them in their fundraising efforts and really making an impactful difference to that charity, its supporters, and those it helps.
We've chosen to donate to a special charity called Overgate Hospice based in Elland, Halifax, West Yorkshire. This amazing charity and hospice was created back in 1995 to offer support and palliative care for those affected by and suffering life threatening illnesses. They raise awareness on both local and national levels, and fundraise for the hospice to help patients, patients family, doctors and caregivers. They are based in Halifax, not far from where The Yorkshire Soap Company journey began so it seemed very fitting to make them our chosen charity and we couldnt be more proud to be supporting such a wonderful bunch of people and such a worthwhile and important charity.
Why have we chosen this charity to support?
We recently worked with Dame Sarah Lancashire and Sally Wainwright to create a bespoke Happy Valley inspired scented candle for the end of season wrap party for the wonderful TV series; Happy Valley. The candle was to be given as a gift to all cast and crew to celebrate the seasons finale. The candle was a huge success and our customers, who read about it on our social media channels, all wanted to purchase them. After speaking with both Sally and Sarah we all agreed we would re-create the candle and make more to sell to our customers. We wanted the sales to support a local charity and decided all profits would be donated from any sales made. We created 2000 candles to sell and upon Sally and Sarah's request; decided that all profits from the sales would be donated to Overgate Hospice, a charity much loved by us all and so far we have raised £10,000 from the sales and we hope to increase this over the coming months!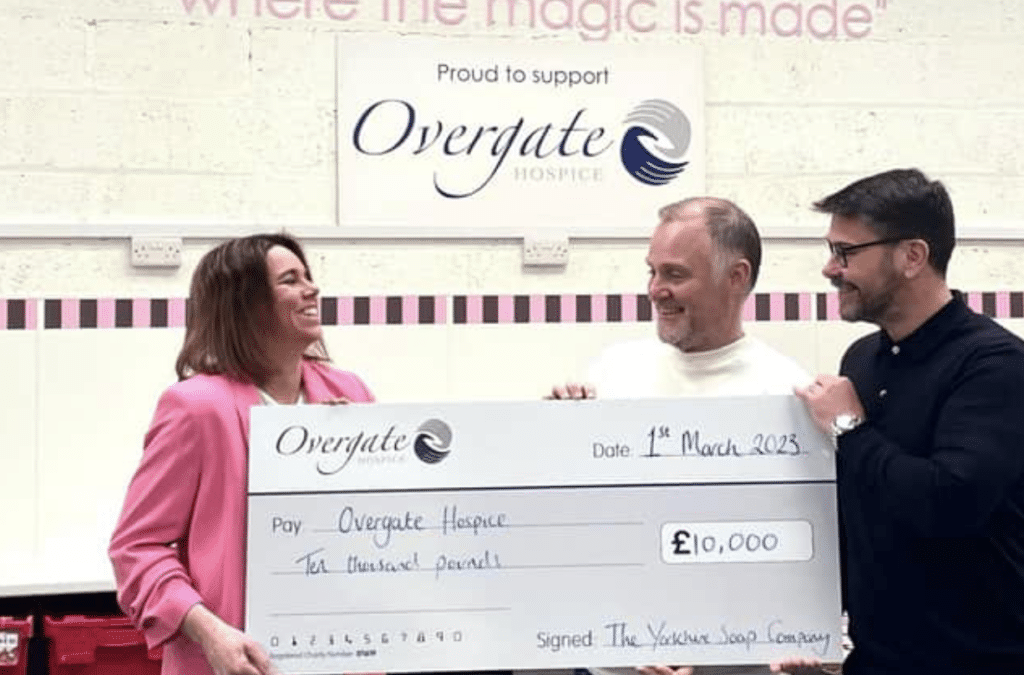 How do we help?
At Yorkshire Soap, we are helping by providing monetary donations, raffle prizes and gifts for the charity throughout the year. These donations help the charity to fundraise for various items and services, especially important for those that rely on them.
How can you help Overgate Hospice?
There are many ways that you can get involved, help and support Overgate Hospice charity in their fundraising efforts, see here: